---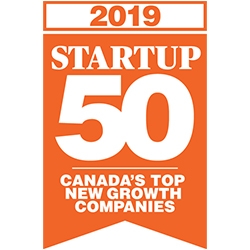 September 12, 2019 (Waterloo, ON) – Today, Canadian Business and Maclean's ranked Intellijoint Surgical®13th on the 2019 Startup 50 ranking of Canada's Top New Growth Companies. Serving as a companion list to the longstanding Growth 500 ranking of Canada's Fastest-Growing Companies and produced by Canada's premier business and current affairs media brands, the Startup 50 ranks younger companies on two-year revenue growth.
Intellijoint Surgical made the 2019 Startup 50 list with two-year revenue growth of 1123% and is profiled online at CanadianBusiness.com and in October's print issue of Maclean's Magazine.
"The 2019 Startup 50 winners suggest the future of Canadian entrepreneurship is extremely bright. They have brought new offerings to market, created indelible brands and disrupted established business models—all in an extremely short period of time," says Beth Fraser, Startup 50 and Growth 500 program manager. "Any aspiring entrepreneur should look to their stories for inspiration."
"We are so honoured to be included in Startup 50 ranking this year," says Armen Bakirtzian, CEO & Co-founder, Intellijoint Surgical. "This achievement of growth illustrates how Intellijoint HIP is addressing a real need for improved, affordable accuracy during total joint replacement surgery and showcases the dedication of our talented team for making this happen!"
In 2008, Intellijoint Surgical was born out of a fourth-year engineering design project at the University of Waterloo. Intellijoint HIP®— Intellijoint's flagship product — was developed as a solution to improving access to accurate and affordable navigation for total hip replacements (THR). Today, Intellijoint HIP is fully commercialized; it has been used in over 10,000 THR and is used by top orthopaedic institutions globally. Intellijoint Surgical looks to the future for other procedures that could benefit greatly from better navigation. The core technology within Intellijoint HIP is suitable for a multitude of other applications, including total knee arthroplasty.
In addition to this prestigious ranking, Intellijoint Surgical is the recipient of the North American Frost & Sullivan Enabling Technology Leadership Award, the Futurpreneur Shopify True Grit Award and the Growing Strong Futurpreneur Award.
About the Startup 50
Ranking Canada's Top New Growth Companies by two-year revenue growth, the Startup 50 profiles the fastest-growing startups in the country. It is a companion list to the Growth 500 ranking of Canada's Fastest-Growing Companies, which has, for over 30 years, been Canada's most respected and influential ranking of entrepreneurial achievement. Both the Startup 50 and
Growth 500 are published in a special issue of Canadian Business published with Maclean's magazine and at CanadianBusiness.com. For more information on the ranking visit Growth500.ca or CanadianBusiness.com.
About Canadian Business
Founded in 1928, Canadian Business is the longest-serving and most-trusted business publication in the country. It is the country's premier media brand for executives and senior business leaders. It fuels the success of Canada's business elite with a focus on the things that matter most: leadership, innovation, business strategy and management tactics. Learn more at CanadianBusiness.com.
About Intellijoint Surgical
Intellijoint Surgical®develops and commercializes surgical navigation solutions for total joint replacements. It is committed to improving patients' lives by providing every surgeon with effective, easy-to-use technology. Intellijoint's flagship product, Intellijoint HIP®provides surgeons with real-time, intraoperative measurements to ensure accurate positioning of orthopedic implants during total hip replacements. Learn more at IntellijointSurgical.com.
Media Contact:
Rebecca MacIntyre
Manager, Marketing & Communications
[email protected]
+1 (647) 861-6800