---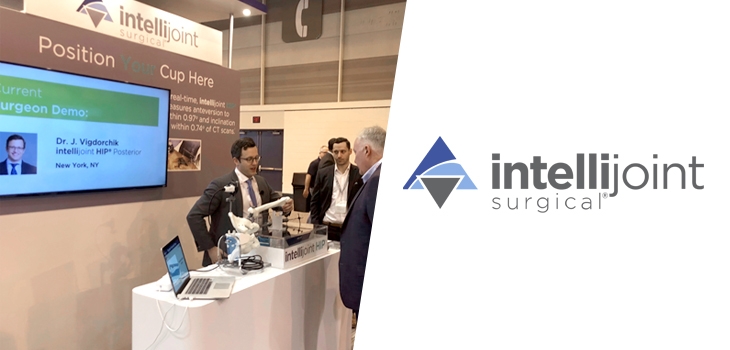 March 5, 2019 (WATERLOO, ON) – Intellijoint Surgical, a Canadian-held company developing and commercializing smart navigation for total joint replacements,is pleased to announce the appointment of Jonathan M. Vigdorchik, MD,to its Scientific Advisory Board (SAB). Dr. Vigdorchik is an Orthopedic Surgeon at the Hospital for Special Surgery.
Intellijoint Surgical's flagship technology – Intellijoint HIP – is disrupting traditional navigation within total hip replacement surgery by being smarter, faster, and more affordable. The appointment of Dr. Vigdorchik to its SAB brings together innovators who are focused on advancing orthopedic surgery through surgeon education and the development of new technology to improve patient outcomes.
"Through research and diverse surgical experiences, I have seen how navigation can be used to improve patients' outcomes following total joint replacement," explained Dr. Vigdorchik. "Intellijoint's core technology has enabled a new era of surgical navigation by providing highly accurate and cost-effective measurements for implant positioning and limb length, maintaining efficiency of my workflow, respecting my implant preferences, all without the need for radiation from a CT scan or an increase in operative time."
Dr. Vigdorchik has years of surgical experience with navigation and robotics, and adopted Intellijoint HIP over three years ago for most of his surgical cases. Dr. Vigdorchik is fellowship trained in Adult Reconstruction and Joint Replacement at Hospital for Special Surgery,and an assistant professor of orthopedic surgery at Weill Cornell Medical College. He specializes in all types of hip surgery from hip preservation to hip resurfacing, hip replacement, and revision.
"The need for the next generation of surgical navigation is evident through the exceptional growth and global adoption we are experiencing," said Armen Bakirtzian, CEO and co-founder of Intellijoint Surgical. "We are excited to partner with Dr. Vigdorchik to develop new technologies and educate orthopedic surgeons on how to effectively integrate them into their practices."
Dr. Vigdorchik joins an esteemed group of orthopaedic surgeons on Intellijoint Surgical's SAB: Chairman, Dr. Allan Gross at Mount Sinai Hospital (Toronto, Ont.), and members: Dr. Wayne Paprosky at Rush University Medical Center (Chicago, I.L.); Dr. Michael Bradley at South County Hospital (South Kingstown, R.I.); Dr. Ran Schwarzkopf at NYU Langone Orthopedic Hospital (New York, N.Y.); and Dr. Michael Alexiades at Hospital for Special Surgery (New York, NY).
About Intellijoint Surgical:
Intellijoint Surgical®develops and commercializes surgical navigation solutions. Intellijoint's flagship product, Intellijoint HIP®provides surgeons with real-time, intraoperative measurements to ensure proper size selection and positioning of orthopaedic implants during total hip replacements. Intellijoint is committed to improving patients' lives by providing every surgeon with effective, easy-to-use technology.
Intellijoint Surgical is the recipient of the North American Frost & Sullivan Enabling Technology Leadership Award, the Futurpreneur Shopify True Grit Award and the Growing Strong Futurpreneur Award.
Media Contact:
Rebecca MacIntyre,
Marketing & Communications Manager
[email protected]
Mobile: +1 (647) 861-6800