Increase PROMs Survey Responses While Decreasing Survey Administration.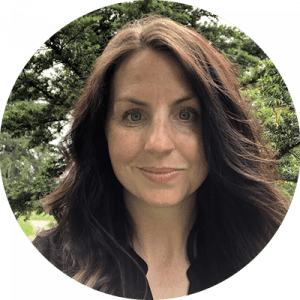 Guest Blog by: Alicia Newell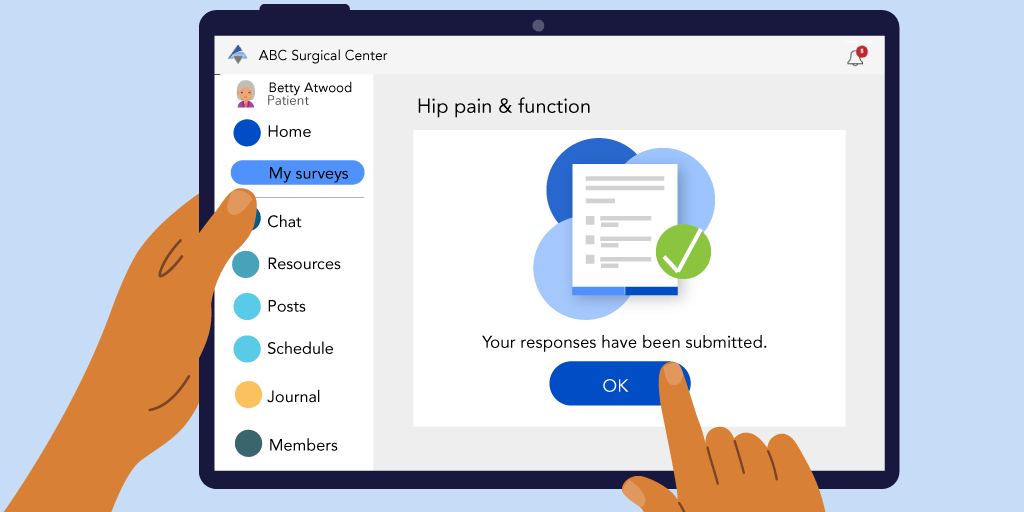 When we asked practice administrators what their most valuable resource is, we expected to hear about a particular role in the organization, a tool, or a product (personally my most valuable resource is my Nespresso machine), but the answer we hear again and again is that the most valuable clinical resource is time.
When we get into the nitty gritty of how clinical administrators are spending their days, a significant amount of time is taken up by repetitive, manual tasks around PROMs data manipulation. PROMs are necessary for continuous clinical improvement, reimbursement, accreditation, and gaining access to benchmarking data, but the process of collecting, compiling, and reporting that data, including distributing surveys to patients and manually sending follow-up reminders, is fraught with tedious, time-consuming tasks.
Most administrative staff at busy orthopaedic practices already lack the time and resources to deal with their volume of work and yet they have business objectives to increase both the scope of the PROMs they collect as well as their PROMs survey response rate because of the immense value that PROMs data offers.
So, how can orthopaedic clinics increase their PROMs response rate while decreasing the amount of time they spend administrating surveys? We're so glad you asked! This was the exact question we had at the front of our minds when we designed the PROMs collection feature for Intellijoint CARE powered by SparxConnect.
Make it easy: Use a patient-centric engagement app
Have you ever filled an online shopping cart only to abandon it when you're asked to complete the customer profile to check out? There is something about signing up for yet another… thing, even when it's something that you really want. When patients receive the registration link for a new survey app from their clinic, they can be similarly disincentivized, especially when the survey doesn't appear to have any immediate, tangible benefit for them. And if the patient is required to sign up for multiple survey apps? Forget it. But what if the patient was already using an app for something that did benefit them, something they were already comfortable using, and then the app sent them a request to answer a few questions about their recovery? Would they be more likely to complete the surveys? We've discovered that the answer is a resounding yes.
Once they know that orthopaedic surgery is in their future, we know that motivated patients are eager to learn as much as possible about their procedure so they can feel prepared and confident for the surgical journey¹. We've found that the motivation to learn may be just the incentive that patients need to sign into the app and stay engaged. We've also designed the registration process to take less than 30 seconds so that patients can gain access to the CARE solution quickly and easily. This means that when it comes time to complete their PROMs surveys, patients are using an app that they are already registered for, engaged with, and familiar with. Lastly, the PROMs surveys are delivered in our simplified and lovely survey interface to help make more lengthy PROMS survey look a little less daunting which helps reduce drop-off rates².
Good tools automate, aggregate, and amalgamate: Decrease time spent on survey administration tasks
Since clinical administrators are typically the main point of contact for patient communication, it often falls to them to distribute PROMs surveys, send reminders, and collect and compile patient responses for submission. Survey tasks can quickly become a time vampire of manual effort that pull administrators away from the clinical support activities that are most visible and valuable to patients and their families. To that end, the Intellijoint CARE solution offers 3 key advantages:
All aspects of survey distribution, reminders, and cancellations are automated based on the patient's surgery date. Automation rules only need to be set once and will be automatically applied to new patients as they are added. As well, if your patient's surgery date changes, the survey automation rules will automatically adjust to the new date. In CARE, you can:
Set a standard interval for PROMs surveys to go out to patients relative to their surgery date or another important date.
Automatically send reminders to patients who haven't yet completed their survey. The app will send a nudge in whatever way patients have chosen to receive notifications (SMS or email). This not only eliminates the manual work around sending reminders, but also helps cut down on notification overload that can reduce patient engagement³.
Set surveys to automatically expire if they are not completed within the required timeframe so that you can rely on survey responses to measure patient outcomes only during the appropriate time windows.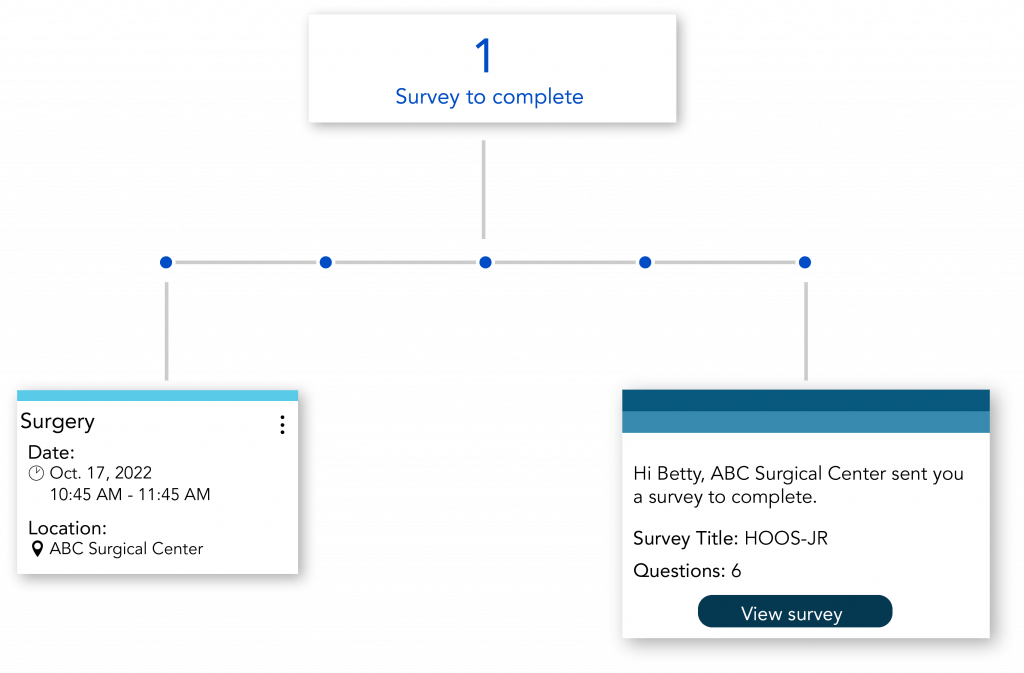 Many survey tools that cater to orthopaedic surgery support only templated, pre-validated surveys. If clinics want to send custom patient experience surveys, they may have to rely on paper surveys or, in some cases, adopt a separate digital survey tool. We know that paper surveys are associated with lower response rates4and they also add a huge amount of manual work when it comes time to compile survey responses. Digital survey tools make compiling responses easier, but not all tools are HIPAA compliant, and they also add the barrier of yet another registration step for the patient.
CARE was designed so that you can amalgamate all your surveys for any surgery or purpose into one HIPAA-compliant application. You can use CARE to send templated, pre-validated, and standardized surveys (such as HOOS and KOOS) or easily create and distribute custom surveys for PREMs, or other experience-based surveys.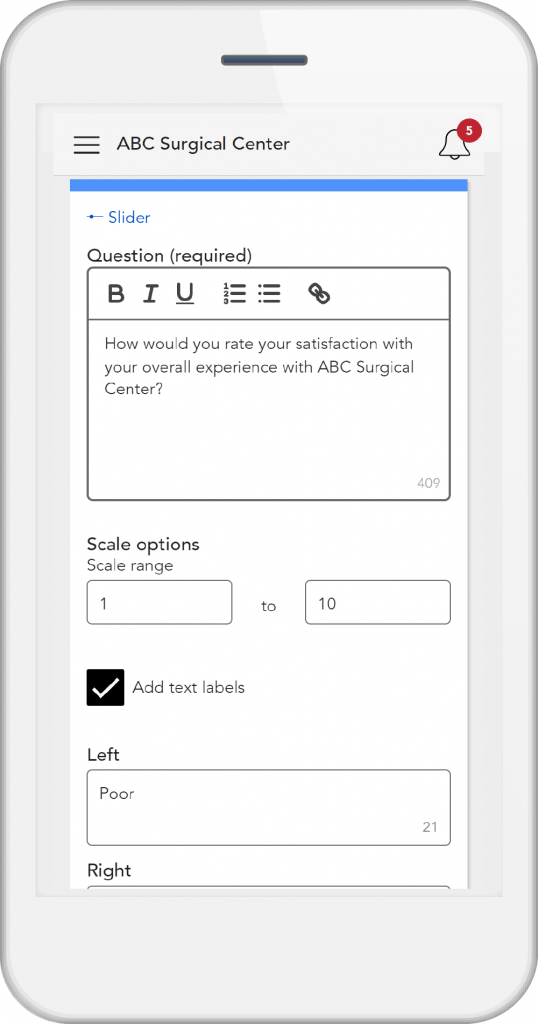 Manually aggregating survey responses across multiple sources (paper and digital) can be both time- consuming and error-prone. We knew that this was a major pain point for our customers which is why CARE offers a single-click solution to export all survey data into one place at any time. You can easily customize which data you export or how you export it (for example, export multiple PROMs for one patient or multiple patients for one PROM) to a flexible CSV format.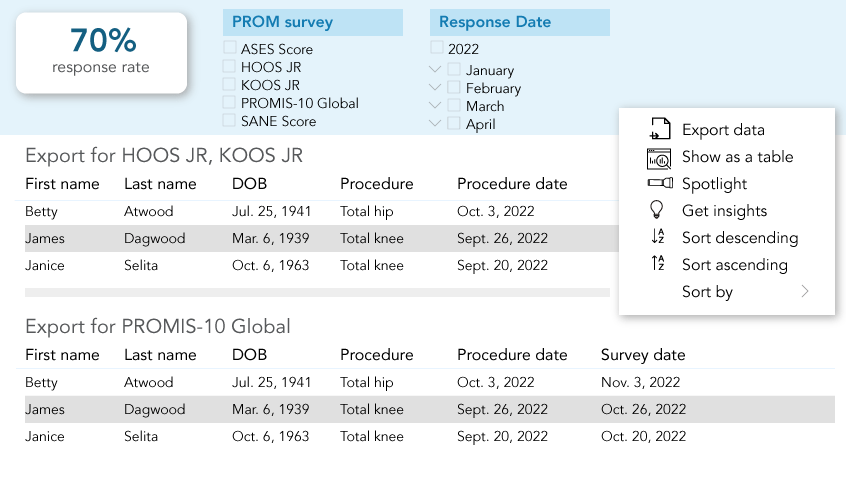 Patient-first design means thinking about administrators too
Our approach for CARE has always been a patient-first design, but we know that the more time that we can give to clinical administrators, the more time they can spend providing high-value clinical care to their patients. That's why we've built CARE in a way that decreases the manual work around PROMs collection and incentivizes patients to engage with PROMs surveys without the need for extra effort from clinical staff. To learn more about CARE and the other features it offers to support your practice, visit https://www.intellijointsurgical.com/care/.
About the Author: Alicia Newell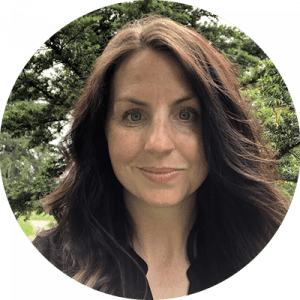 Alicia Newell is a content creator at Emmetros, our technology partner and creator of the platform that powers our innovative patient engagement solution, Intellijoint CARE. With over 10 years of experience in technical writing, Alicia is recognized for her expertise in the medical device industry where she has collaborated with industry experts to create clear, accessible, and succinct documentation and patient education materials. Alicia is dedicated to ensuring content meets the needs of the audience and always considers the experience and safety of patients to be the first priority.
References
1.Berg, U., Berg, M., Rolfson, O. et al. Fast-track program of elective joint replacement in hip and knee—patients' experiences of the clinical pathway and care process. J Orthop Surg Res 14, 186 (2019).https://doi.org/10.1186/s13018-019-1232-8
2. De Faoite D. The advantages of electronic patient-reported measures and an example digital platform to collect ePROs after total knee arthroplasty. Medicine Access @ Point of Care. 2018;2. doi:10.1177/2399202618813463
3. Okoshi, Tadashi & Tsubouchi, Kota & Taji, Masaya & Takanori, Ichikawa & Tokuda, Hideyuki. (2017). Attention and Engagement-Awareness in the Wild: A Large-Scale Study with Adaptive Notifications. 10.1109/PERCOM.2017.7917856.
4. De Faoite D. The advantages of electronic patient-reported measures and an example digital platform to collect ePROs after total knee arthroplasty. Medicine Access @ Point of Care. 2018;2. doi:10.1177/2399202618813463