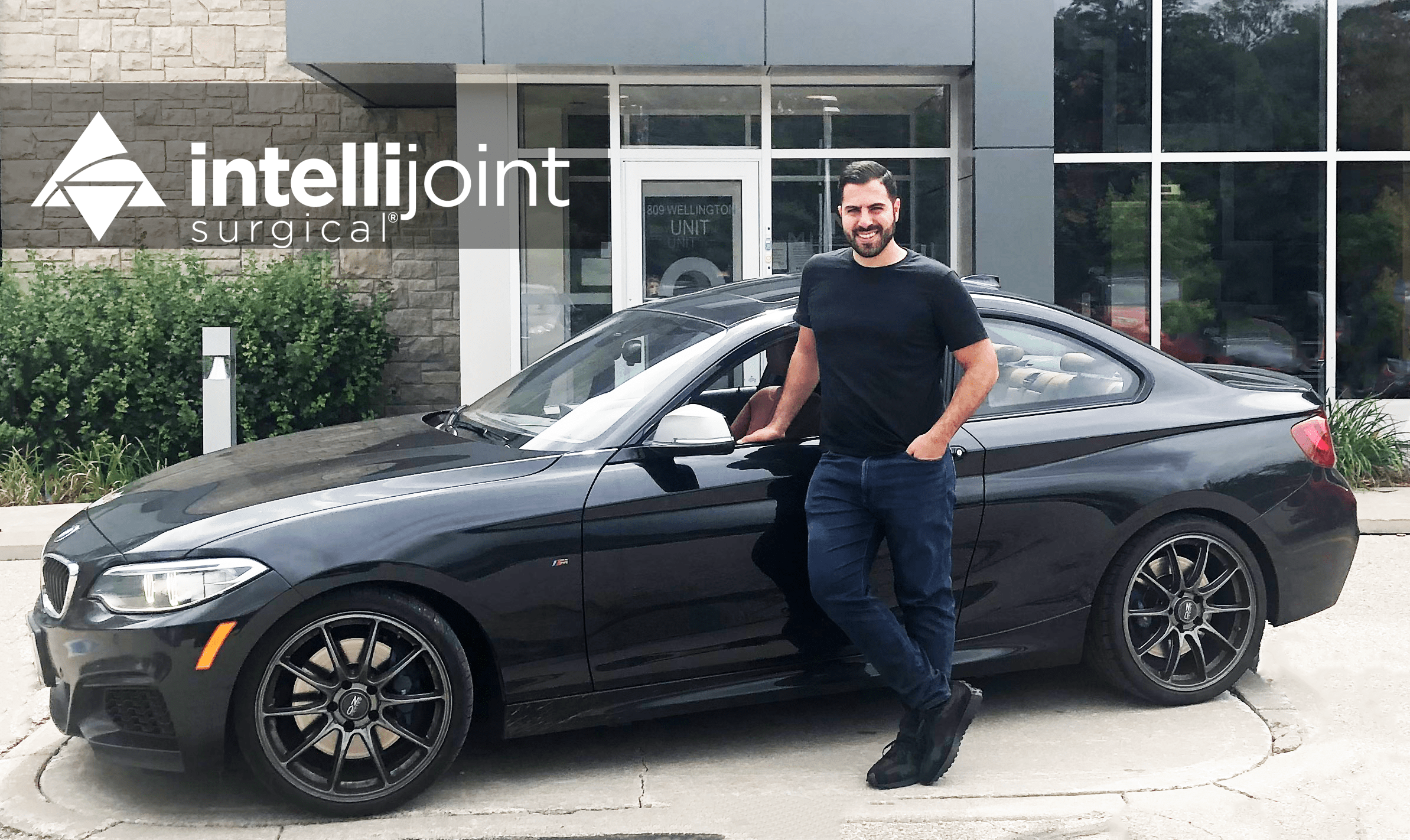 AB Drives.....excellence in culture
AB Drives is a new initiative at Intellijoint Surgical brought to us by our very own co-founder and CEO, Armen Bakirtzian. AB Drives is a ride along with Armen where team members, or 'IJSers', can sign up for and enjoy a fun 20-minute car ride individually or in a group in either Sport+, Eco, or Comfort driving mode options.
During the joy ride, you can talk about whatever you like — work related or not. Armen is determined to connect with as many IJSers as possible and with this initiative, can do so while doing what he loves; driving his car and getting to know each and every one of his valuable staffers.
The Intellijoint staff count has reached over 120 people since being established just over 10 years ago. New and interesting ways to connect with the growing number of people who make up the Intellijoint team is needed with a dispersed workforce who aren't always in the office every day.
Armen regularly spends time on the road with individual IJS sales team members abroad, driving to surgeon meetings or observing Intellijoint's products in action in the operating room. During a recent trip, Armen thought: "it makes so much sense to bring this idea home and connect with teammates at HQ in person." Intellijoint has embraced building a culture of feedback and this is just one way IJSers can share their thoughts, directly with our co-founder and CEO.
I had the opportunity to join an AB Drives trip last week. I enjoyed a well-thought-out tour of the KW region featuring "where Intellijoint started" from University of Waterloo to the Accelerator Centre to an outgrown locations in Waterloo. During the drive, my co-rider, Lauren, and I decided on Sport+ mode, and boy, was it a ride! As we put on our sunglasses and hopped into the red leather interior (after briefly deciding who gets shotgun), we enjoyed a peppy tour around the city while speaking about music, sports, kids, upcoming events, and unfortunate road trips stories. We laughed, learned a lot about each other, and before we knew it, were back at the office to finish off our session of AB Drives. Until our next ride.
Several IJS employees have also taken up the opportunity to join an AB Drives trip. Aaron McKinley, who had the chance to go the week before, said, "Having the opportunity to spend one-on-one time with Armen was truly a great experience! It is not often that you come across a CEO like Armen who is able, and willing to take time out of his day to spend with his fellow employees. Don't miss out on this!"
As far as modern company cultures go, I think this idea is pretty unique and just one more thing that sets Intellijoint apart.... driven by AB himself!