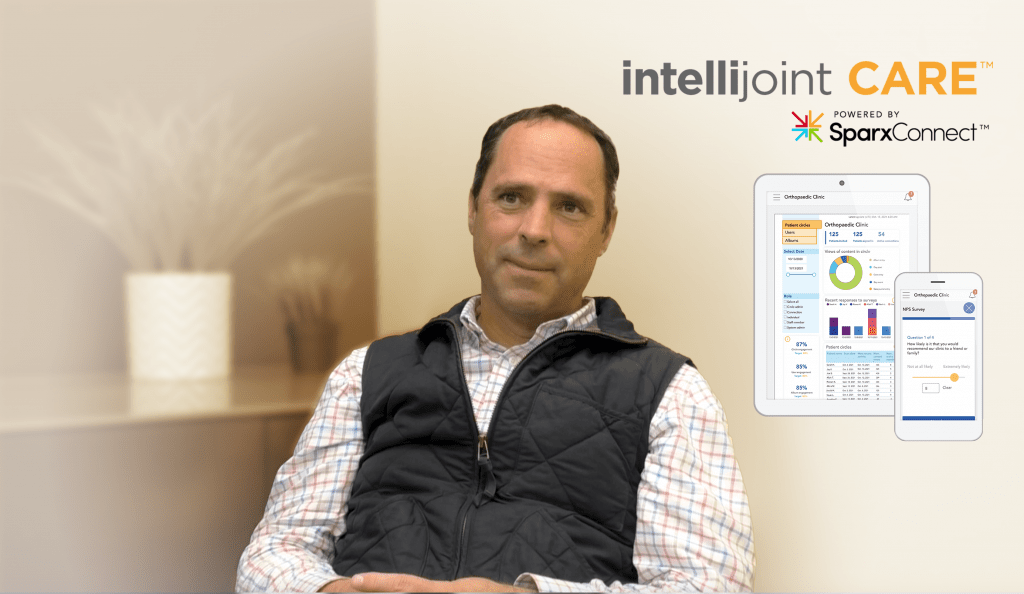 With a mission to provide the best patient experience in the industry, the team at Ortho Rhode Island (ORI) is always seeking new ways to enhance their services, so patients not only have confidence that they will have the best outcomes, they can tell that their experience with ORI matters too.  
In our interview with Dr. Michael Bradley, CEO and President at Ortho Rhode Island, he shares his vision to amplify ORI's potential through the use of patient-centric technology. 
How do you see patient engagement technology enhancing the patient experience? 
Dr Bradley: "First and foremost, I don't want patients to feel like their pressured for time. I want them to have the ability to learn about and prepare for treatments and procedures. It will be great when they can receive information in small amounts and they can self-serve from an online library whenever it works best for them. They can easily get answers to their questions. All of this makes a real difference to patients. And that's what my team and I care about most."
What is the biggest challenge you want to tackle with patient engagement technology?
Dr Bradley: "One of our biggest challenges relates to patient education and the amount of information that we're giving patients. Up until now, we have provided them with a binder or folder with all the information they need and, to be honest, we have little awareness of whether or not they are looking at it. We have this one chance to get their attention which leads us to push too much information at once and it is overwhelming for most patients. We need a way to share this information in stages so that it's mapped to the patient journey."
What are the issues you see when patients are not prepared for surgery?
Dr Bradley: "The number one issue or problem usually, is patient expectations. And that doesn't necessarily mean how quickly they're going to get back to walking or riding their bike. It's about what they need to be doing along the way. When do they start therapy? When should they be on or off pain medicine? We tell them what to expect, but they often do not remember.  When a patient is not fully prepared, it opens the door for issues or complications.
Another issue this causes is that when patients have questions, everybody calls. We just get flooded on the phone lines. And up until now, there hasn't been anything really robust that allows people to communicate in different ways. We have 70 patient access center operators and they have had to field about 300 phone calls a day. A good patient engagement technology will help us tackle these problems." 
From your perspective, what's the ROI? 
Dr Bradley: "Patient engagement technology will certainly drive efficiencies. When patients can easily access the answers to their questions, our team will spend less time answering questions and printing out or emailing documents.    
We also see this as an investment in our future. We know that if we are always striving to give patients an experience that stands out in our community, this is what will keep a steady flow of patients coming in the door. I believe that the return on investment for these solutions is so high that they easily pay for themselves." 
What do you see as must-have functionality in a patient engagement solution?  
Dr Bradley: "It needed to allow for our practice to apply our branding: our logo, our team, our content. Our patients need to see that what's in the app is coming from the physician or the team that they're seeing. From the messaging to the videos, we want patients to feel like this experience is just an extension of the in-person one. It also had to offer a way to host an online library of resources and ensure that our team could easily send personalized messages at just the right time. Lastly, it had to be easy for our team to collect ongoing patient feedback. That was the functionality we were looking for." 
Out of all the options, why did you choose CARE?  
Dr Bradley: "It had all the functionality I was looking for, but there was also something really unique about CARE. The first time I saw CARE it was crystal clear to me that it was very patient centric, that it was intentionally designed for a patient to use, and I know this is critical to gain patient adoption. It would also allow us to enable a virtual coach experience as well as include family members and care partners to support a patient throughout their entire journey. Another reason it was a standout is that it can support every single patient that walks through the doors at Ortho Rhode Island. So that was very exciting." 
About Dr. Michael Bradley
Dr. Bradley focuses his practice on sports medicine, orthopedic trauma, and knee/shoulder/hip replacements. He is board-certified and holds an advanced Certificate of Added Qualification in Sports Medicine. He serves as President/CEO of Ortho Rhode Island as well as Chief of Orthopedic Surgery at South County Hospital, and holds several local and national orthopedic leadership positions.