Intellijoint Surgical Eager to Expand OEM Business with New Robotic and Navigation Partners Following Success of Accelus as They Are Named Orthopedic Company to Watch in 2023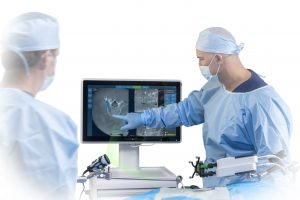 Kitchener, ON Feb 8, 2023– Intellijoint Surgical congratulates Accelus for being listed in Bonezone's 5 Orthopedic Companies to Watch in 2023 "because of consistent growth through development deals, the gathering of clinical evidence to back novel treatment solutions and active portfolios supported by numerous product launches." Accelus experienced impressive growth in 2022 through the Remi Robotic Navigation System and their FlareHawk portfolio of multidirectional expandable implants.
Intellijoint's relationship with Accelus and their Remi Robotic Navigation System, a navigated robotic targeting system for spine surgery, began in 2020. Remi utilizes Intellijoint's camera as an integral component of the system to provide enhanced line of sight and enable close positioning while tracking instruments with a broader range than other conventional systems. Remi's simplified workflow and small footprint make this innovative system appealing to surgeons, saving them OR setup and planning time.1
Intellijoint's camera fills a void in the market offering reduced setup time, miniaturized OR footprint, full control from within the sterile field and no line-of-sight issues. While Intellijoint remains firmly committed to innovating in hip and knee arthroplasty, carrying the clinical pedigree of the camera into spine was a natural fit.
"Intellijoint Surgical had the camera solution we needed to bring our innovative spine robotic navigation platform to market," said, Brad Clayton, Accelus Chief Technology Officer.  "Remi is the perfect complement to our robust portfolio of enabling implants, instruments, and technologies that allow surgeons to simply address complex pathology, as well as our new product pipeline designed to easily solve clinical challenges of spine through innovation."
Intellijoint celebrates the resounding success of Accelus and innovation in navigated robotics and is actively seeking finished device makers as new partners to further benefit patients and the robotics and surgical navigation industries globally through its new venture- IJX. For more information, contact [email protected].
1. Soliman M A, Khan A, O'Connor T E, et al. (June 26, 2021) Accuracy and Efficiency of Fusion Robotics™ Versus Mazor-X™ in Single-Level Lumbar Pedicle Screw Placement. Cureus 13(6): e15939. doi:10.7759/cureus.15939
About Intellijoint Surgical
Intellijoint Surgical® develops and commercializes surgical planning & navigation solutions for total hip and knee joint replacements, as well as digital patient engagement for all orthopaedic specialties. It is committed to improving patients' lives by providing every surgeon with effective, easy-to-use technology to manage the entire episode of care. Intellijoint's technology is used by top orthopaedic institutions and surgeons globally.
About IJX
IJX partners with finished device makers to develop miniature optical tracking technology for 3D localization in health technology applications globally. IJX provides small footprint optical tracking for surgical navigation and robotics with customization available for several applications with consistent accuracy and user experience. IJX is committed to advancing healthcare technology to benefit patients globally with exceptional outcomes. For more information visit: www.ijxnavigation.com
About Accelus
Accelus is committed to accelerating minimally invasive spine surgery through its enabling technology with broad accessibility to previously underserved markets. Established in 2021 through the combination of Integrity Implants and Fusion Robotics, the company is focused on providing its proprietary Adaptive Geometry™ technology with pragmatic and economical navigation and robotic solutions with broad clinical use in spine surgery. Learn more at www.accelusinc.com.
PR Contact
Lisa Kawalez, Senior Manager, Marketing Communications
[email protected]