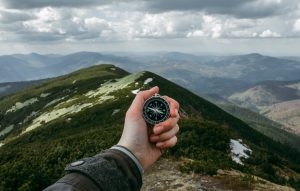 Navigating uncertain times during COVID-19
This post is written by Armen Bakirtzian, CEO & Cofounder of Intellijoint Surgical and Founder of MIX.
"Return to work", "new normal", "re-opening amid COVID-19".
These are all exciting yet terrifying phrases that many of us are grappling to understand as we navigate today's shifting environment and its continuous evolution as we gradually emerge from isolation.
As recently heard from Andy Stanley during Leadercast 2020, "Clarity is the next best thing to certainty in times of disruption". I, not unlike many of you, crave certainty more now than ever. It is human nature to want to know "what's next?". Although I am unable to know what the "new normal" looks like, it is becoming increasingly clear that building a strong team and placing equal weight on the top and bottom line can help a company weather significant challenges. Start-ups and scale-ups may not know the types of challenges they will face, but they should be certain that they will face significant adversity that may be outside of their control.
As elective surgeries begin again around the world, I have also learned that the current environment increases the value proposition of our unique technology for total hip replacements (THR) and total knee replacements (TKR).
WELL-POSITIONED
In conversation with orthopaedic surgeons, we heard that top concerns around returning to the operating room (OR) include:
Significant increase of cases in an outpatient setting

Longer OR down time due to intubation risks

Decrease in hospital traffic, staff and OR support

Use of telemedicine for pre and postoperative checkups

Readmission post-surgery
While managing these changes and new protocols will take time, the innovative design philosophies of our smart navigation applications are more important now than ever before. Intellijoint Surgical® was founded in 2010 to make surgical navigation faster, easier and more affordable to use while delivering highly accurate results to benefit patient outcomes. These principles make us very well positioned to address the heightened concerns returning to the OR today. Intellijoint HIP® and Intellijoint KNEE™ have no significant OR time-add, no capital expense, are easy to learn, and are both delivered on our compact portable workstation suitable for ORs in hospitals or Ambulatory Surgery Centres.
Computer-assisted navigation has been shown to reduce surgical outliers and lower the costly and painful rates of complications, hospital readmission, and revision surgery post THR / TKR. This is crucial to reducing the risk of re-exposure to patients and hospital staff while avoiding any additional strain on an already overburdened health care system.
In the last two months, Intellijoint has maintained our full workforce of over 80 employees, pivoted to delivering remote education, and invested in internal training. Our sales team is prepared to support our existing and new customers in the multiple support scenarios that might occur inside and outside the OR.
It gives me great confidence to know that not only are we ready to face the current challenges head on, but our smart navigation applications are best positioned to help surgeons deliver accurate and optimal outcomes for their patients during total joint replacement procedures. We remain true to our mission – improving patients' lives by providing every surgeon with effective, easy to use technology – and committed to helping patients return to a pain-free, high-quality of life.
TECH FOR GOOD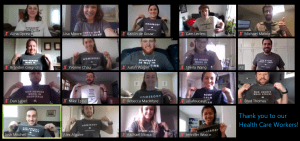 From our beginning, Intellijoint Surgical has been a committed member of the Waterloo Region. We started here, our family roots are here, and we want to continue to grow here. When we heard that many patients were losing contact with loved ones due to visitor restrictions at our local hospital, we jumped at the opportunity to help.
In April, we were able to help Grand River Hospital purchase 40 new tablets to help restore these essential interactions digitally while keeping everyone safe. We were also happy to purchase our team a set of t-shirts with proceeds helping the hospital purchase PPE.
On Tuesday, May 19, 2020, we were pleased to announce our participation in a Medical Innovation Xchange (MIX) consortium with nine other Canadian medical manufacturing firms in collaboration with the Ontario Government. This consortium will provide medical manufacturing advisory services to non-medical manufacturing companies that have received government funding to retool facilities and produce medical supplies and equipment in response to the COVID-19 pandemic.
This collaboration will help companies navigate regulatory challenges, avoid preventable mistakes in quality compliance, and accelerate timelines of delivering medical supplies and products to meet immediate and future patient and health system demands.
I have never been more proud to lead a team of such intelligent, innovative and determined people across North America and Australia. We truly are in this together - as an organization, as a community, as an industry improving patients' lives.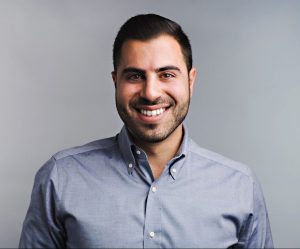 Armen Bakirtzian is CEO and Cofounder of Intellijoint Surgical and Founder of MIX - Canada's first industry-led innovation hub dedicated to helping medtech startups scale successfully in Canada. He is passionate about developing technologies that improve patients' lives.